» We participate in Vakantiebeurs Utrecht 2015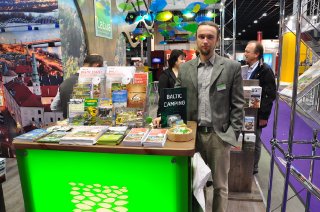 Once again the Dutch flocked to the 45th edition of the Vakantiebeurs ('Holiday Exhibition') at the Jaarbeurs in Utrecht, to get inspiration and to imagine that they were already at their holiday destinations. "And there were even more participants than last time, so visitors had even more choice," said Editha Hoogenberg, Travel Market Manager at the Jaarbeurs. The exhibition took it's place from 13th to 18th of January and attracted more than 117 000 visitors this year.
Latvian Camping association (including Camping "Leiputrija" ofcourse) participated for 5th year in a row and were happy to see that so many visitors had been chosen Baltic states as their travel destination for 2015.
Traditionally, our Camping association was very attractive in offering the best campsites of Latvia, Baltic states, as well as many active, and nature tourism products to those interested. Latvian capings were represented by: Linda (camping Mežasalas), Juris (camping Apaļkalns), Jānis (camping Vējiņi) un Agris (camping Leiputrija).
To our visitors we presented our renewed, annual "Batic states camping map", as well as our previously issued travel guide for camping- and caravaning- lovers: "Enjoy the Best in Latvia, Estonia and Russia". Our visitors also had an exclusive chance to try some latvian sweets from camping "Apalkalns" and home-made snacks: black bread with hempseed butter – made with love – by our camping's "Leiputrija" hostess Maija.
Tradicionally, in Holland, in a country where there are more bicycles than inhabitants, we felt lot of interest about cycling, also kayaking and other activities in nature. In this respect, "Leiputrija" has some novations for the new season: couple of local, easy-level cycling routes and kanoe rental (!)
Thank You very much for all of those visiting our stand in Utrecht, thank You for those sharing their experience about their trips to Latvia and Baltics. Thank You, colleagues – it is always a pleasure to work with You, guys.
With sunny greetings,
Agris & collective of Leiputrija